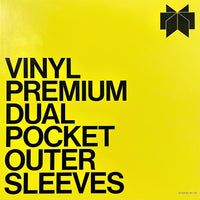 13" Dual Pocket Outer Sleeve
Buy this size for Tone Poets, Analogue Pro, Acoustic Sounds/Verve Series and the such,
if they fall into the measurements below
.
Most Mofi One Steps will not fit!
Spec size is 333mm x 333 mm, or 13" x 13", with a tolerance of +/- 2 to 3mm or 1/8"
Remember the thickness of the album will take up space and you have to take that into consideration. For example: the album measures 320 mm x 320 mm x 10 mm...this means you will use 325 mm x 325 mm...it should fit. If the spine is 20 mm, it might NOT fit.
The storage pocket of the sleeve will be 13" x 13". This is for those very large gate-fold albums (like Mofi/Blue Notes/Tone Poets) and very narrow box sets approx. 3/8" thick, appearing on the market lately.
This is a true archival product.
Our CPP sleeves have excellent properties including clear transparency, scratch resistance, heat resistance, and moisture proof. CPP (cast polypropylene) film has a clear advantage over standard BOPP, polyethylene, Mylar or PVC sleeves.
What are the advantages of cast polypropylene? CPP has higher tear and impact resistance, better cold temperature performance and moisture transmission properties than standard sleeves. CPP won't turn cloudy over the normal life of the product, unlike other films. CPP is very hard to crease unlike BOPP and has some stretch forgiveness.
Cast film is usually used in applications that require superior optical properties such as gloss, transparency, surface smoothness, and good tear resistance.

Are they a little pricey compared to other low cost sleeves? Yes, but they are a true premium product to protect your expensive, irreplaceable record collection for years to come. No other product will give you this amazing clarity.

Environmentally inert. 100% recyclable.
Acid free. Contains no PVC.
Highly non-polar.
Excellent optics. Highly reflective.
Moderate WVTR (water vapor transmission rate) barrier against moisture and odours.
High resistance to acids, alkaline, grease and oil.
Exceptional resistance to corrosive chemicals.
Exceptional toughness, wear and abrasion resistance.
Natural living hinge properties, Fold won't easily crack or crinkle.
Passes the P. A. T. test for no photographic enclosure reactivity. Typically used for high-end photo albums, sports cards and DVD's.

Measurements, approx. 13 inches x 13 inches

Strong 1/16" seams.

Made in Canada with Canadian and American made film. Pure polypropylene resin, no recycle contents, no questionable off shore material.

With this design, there is only 2 seams, 1 on each side.
Fits all single albums, double gate-fold albums and triple gate-fold albums. The record pocket can hold more then 1 record. Please use inner sleeves.
Patents:

USA 11,183,218

Canada 3,035,927

Reg'd GB6207928

Europe 009026081
We no longer collect EU VAT in our shop. This is due to ongoing issues with the IOSS EU VAT system in many EU states. It's creating lots of extra work for us and frustrating customers so we have decided to stop collecting VAT until the system is working properly.
On the bright side it means that we can offer better shipping prices with DPD on orders over 2 kg.
Orders are held for 24 hours before the fulfilment process starts.