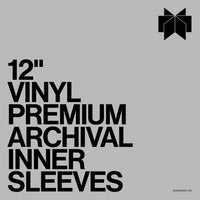 12" Rice Paper Inner Sleeves
Pack of 25 sleeves.
Made just slightly larger to ensure proper fit for 180 and 200 gram records, while still fitting inside of the album jacket or dual pocket sleeve. This is the sleeve you will love for those expensive records.
3 mil or 2 mil version, standard square, anti-static with Mint branding. The 1 mil version is unbranded and only contains the printed arrows. 
The 3 mil version comes with retail packaging as shown in the main photo. The other versions come in a clear bag.
HDPE, high density polyethylene film, only virgin resin, no recycled content.

The 3 mil sleeve is three times as thick as for example the Mofi Master sleeves, and 50% thicker than the 2 mil rice paper inner sleeve.
Tested and certified by an independent lab in the USA to meet ISO PHOTOGRAPHIC ACTIVITY TEST ISO 18916
Made in China
We no longer collect EU VAT in our shop. This is due to ongoing issues with the IOSS EU VAT system in many EU states. It's creating lots of extra work for us and frustrating customers so we have decided to stop collecting VAT until the system is working properly.
On the bright side it means that we can offer better shipping prices with DPD on orders over 2 kg.
Orders are held for 24 hours before the fulfilment process starts.